The world including Ghana has been hit by the deadly Coronavirus which has killed over 6000 people.
The virus was first recorded in China in November 2019 and has now spread to over 100 countries.
As many countries have been confirming cases of the virus, Ghana is no exception.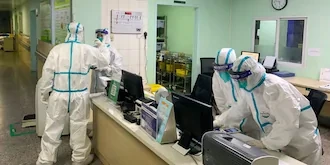 On Thursday, March 12, 2020, the West African country confirmed its first two cases in a press conference.
According to the Ministry of Health, the said two cases were imported – meaning the affected people returned to the country having the virus.
However, in less than 10 days, the total reported cases in Ghana have jumped to 19. Out of the 19, the majority of the cases are imported
Well, per reports only two regions in Ghana have recorded these cases – and they are the Greater Accra Region and the Ashanti Region.
With the statistics coming out, Greater Accra has recorded more cases as compared to the Ashanti Gold.
Stay glued to YEN.com.gh for more updates on the deadly coronavirus.
Meanwhile, Vice President Dr. Mahamudu Bawumia, has urged Ghanaians to seek the face of God in these trying times as the nation battles with the spread of the deadly COVID-19.
He cited the Qur'an to buttress his call for combining spiritual and physical measures to address the deadly pandemic.
Dr. Bawumia spoke on Friday, March 20, 2020, at a Breakfast Prayer Meeting attended by the leadership of Muslims in Ghana including the Chief Imam, His Eminence Dr. Osmanu Nuhu Sharubutu.
Only God can save Ghana from the Coronavirus outbreak – Pastor declares | #Yencomgh