Funny face has been in the news for this whole year. The actor has been facing many issues, it started when Lilwin accused him of buying an award that was not supposed to be given to him.
Lilwin recently revealed that he was joking and wanted his brother to trend, but Funny face after hearing that, didn't take it to be a joke, he then later replied Kwadwo Nkansah saying he is evil.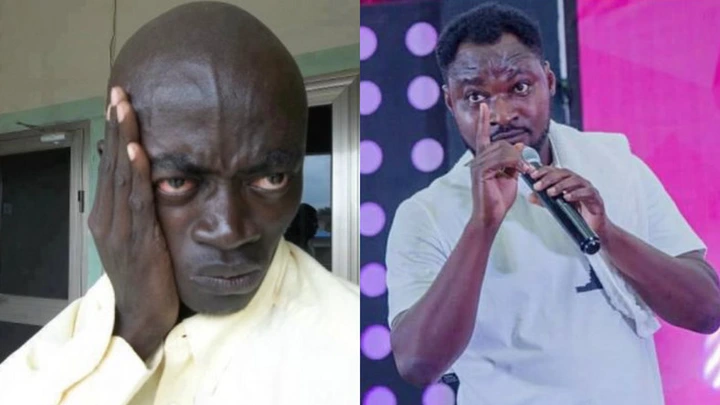 Lilwin continued making funny skits just to lock funny face and it was not easy for funny face.
Later this year Funny face made a video crying saying Lilwin has planned with his GF to steal his twins. And we saw Funny face making a video and in the video, he was crying.
Ghanaians started calling Funny face an emotional man, Funny face after hearing that decided to reply to his critics and in the reply, he was at the same time crying.
Adebayor who is Funny Face's best friend advised funny face to focus on his life and stop replying people.
Funny face didn't listen to what Adebayor said and was still replying his critics, this made Adebayor angry and then we saw Adebayor unfollowing Funny face.
Earlier last month, Funny face and Kwadwo Nkansah met on a Tv station and there was a huge argument on the show. The show was hosted by Nana Ama Mcbrown and the guests couldn't calm both down easily when these two actors decided to fight on stage.
At the end of the show, these actors were able to reconcile and together they begged Adebayor to forgive Funny face as he has changed.
They also made Kwadwo Nkansah apologise on Funny Face's behalf because he was the one who brought most of this (by saying Adebayor bought the award for Funny face).
We thought their apology was ignored as we didn't hear from Adebayor when they apologised to him to forgive Funny face.
But luckily today, Adebayor made a post on Instagram and in the post he wrote: "I promise you one thing is to be there for you.. not matter what that is not going to change, I'm here for you".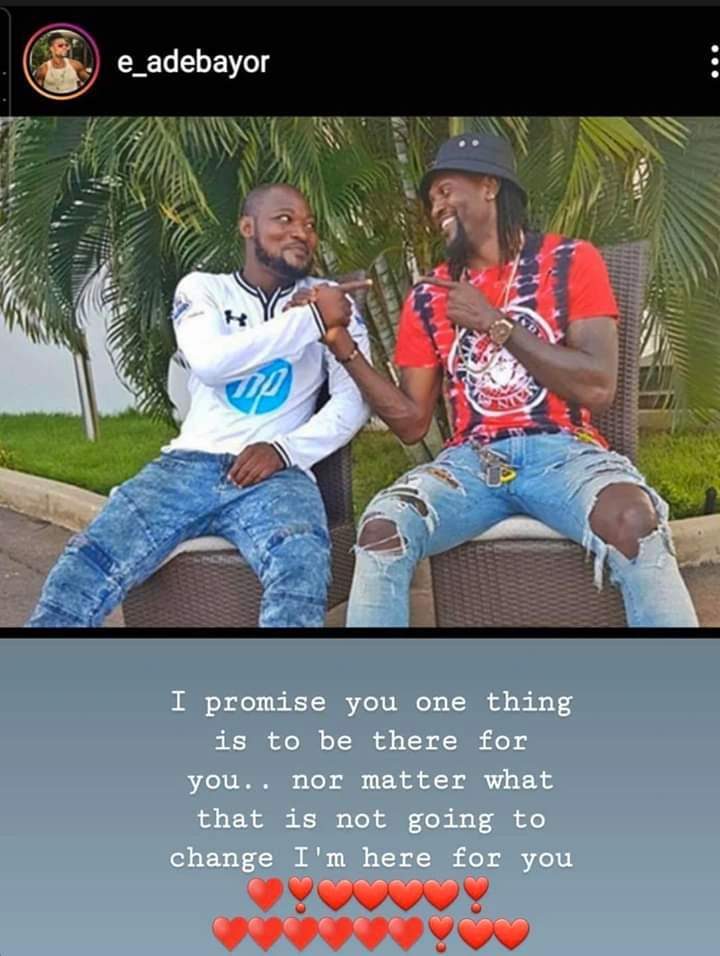 This made us know Adebayor has forgiven Funny face.
When Funny face heard the news, he was so happy and decided to make a post to show his appreciation, he wrote "Aoh Today. I can sleep.. God bless you bro @e_adebayor.. the way people laugh me as u unfollow me. only God can tell… now when u asked me not to talk. I won't talk .. even if I want to piss and u say funny don't piss.. won't piss.. ankooosowa my money all
finish… ebe CD I Dey sell now @e_adebayor Adebooo0orrrrrrbooooooo000orrrrrr.. bless up king @faddick and @bolarayofficial.. am people get ur money ready .. each of u is buying my album. 1 million dollars plus @e_adebayor..3 million dollars. I have calculated ur money already .. am owing some people A.@funnyfansofficial Tanx for ur support am back againnnnnnn".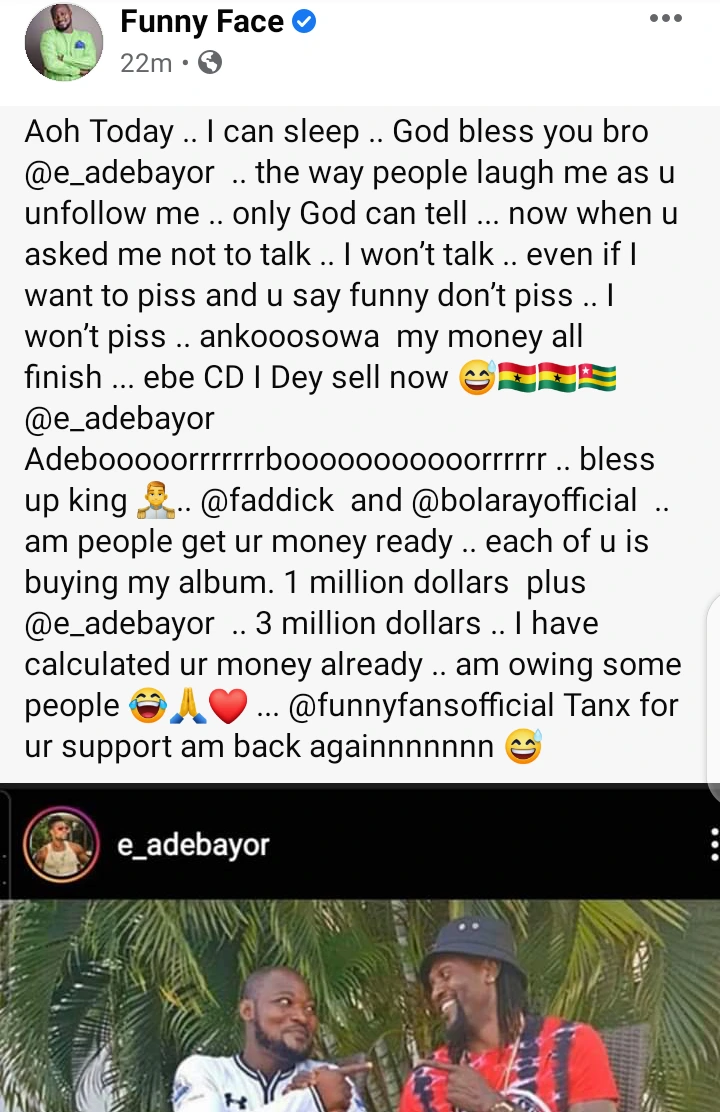 You could see Funny face is currently one of the happiest man alive at this moment.
All that DailySpot can say is we are also happy Adebayor has forgiven his best friend, and we also hope Funny face learn a lot of lesson from it as he has just said.
His fans after seeing that list decided to say what they think, pictures below.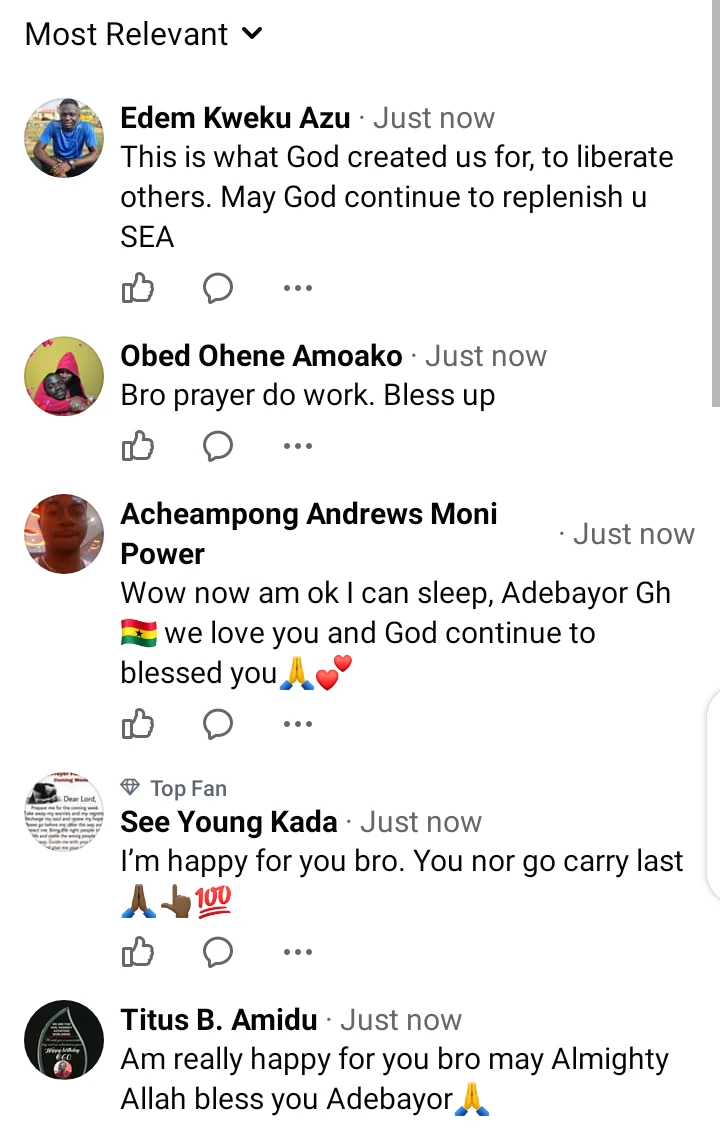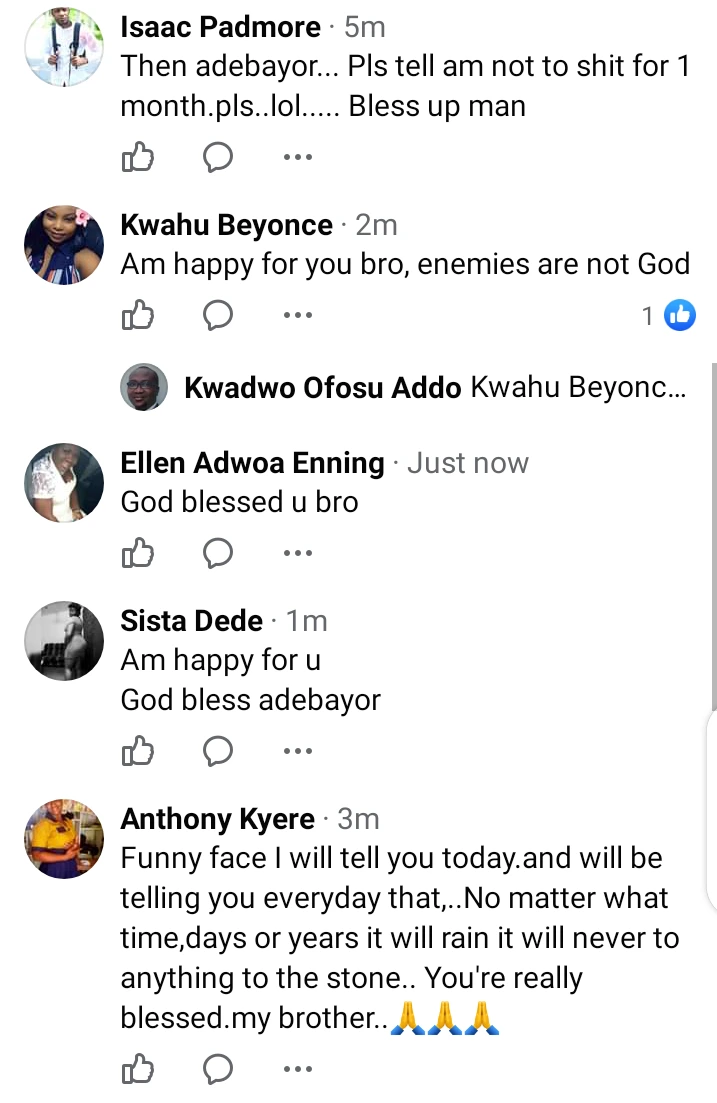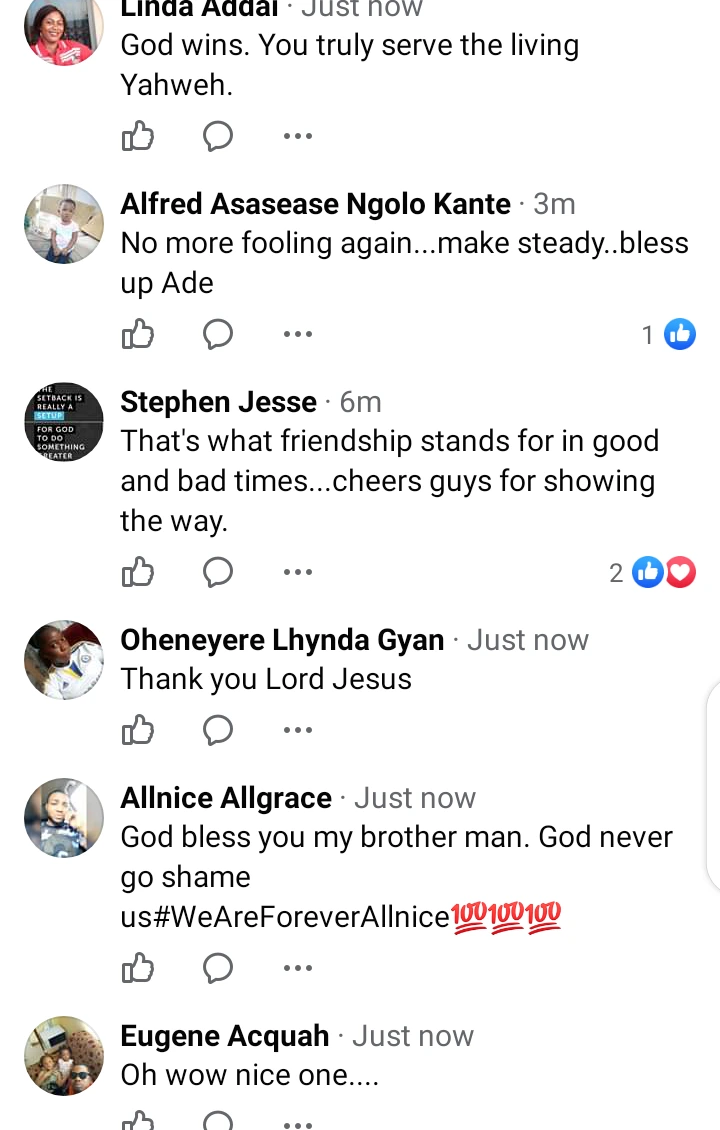 Let me know what you think about what Funny face has just said.
Do you believe he is now onwards going to complete himself?
Has he really changed now as he claims?
Let me know what you think in the comment section below and also don't forget to like, share and follow us for more interesting stories like this.
Chakantuksaagh.com